PRVC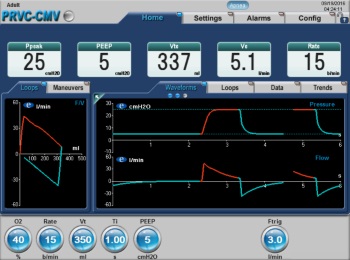 Volume targeted ventilation includes three important capabilities; Pressure Regulated Volume Control (PRVC), Volume Support (VS) and AUTO Control. The primary advantage to all three lies in the ability of the ventilator to adapt breathing support in response to changing patient respiratory drive.
In PRVC, the clinician determines the inspiratory time and volume. The ventilator performs a series of test breaths to determine lung compliance and the necessary pressure required to deliver the targeted volume. Pressures are then adjusted breath by breath in response to volume discrepancies. The patient can splint or gasp within volume delivery limits automatically set or set by the clinician.
VS is a spontaneous mode in which the clinician determines the appropriate VT and the ventilator responds by adjusting its Inspiratory Pressure Support level to achieve the target value. VS is a good means of supporting patients with variable drive in a non-fatiguing state.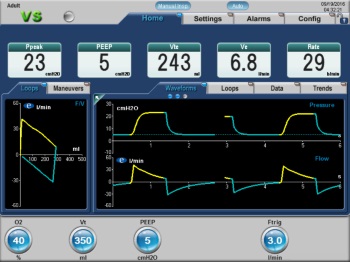 Our AUTO Control takes apnea ventilation to a new level by creating a seamless bridge between CMV modalities and spontaneous breathing— without the annoying alarms! eVent Medical's sophisticated software and algorithms allow the ventilator to switch between a control mode of ventilation and a spontaneous mode when certain parameters are met by the patient's breathing pattern. AUTO Control has resulted in a 90% decrease in ventilator manipulations, decreased alarms and shorter time on the ventilator in paediatric post surgical patients.
In addition, the ventilator displays the percentage of time your patient is spending in spontaneous mode, making extubation decisions easier. AUTO Control offers improved safety, comfort and synchrony in patients with marginal reserve while allowing the patient complete control over the level of required support.